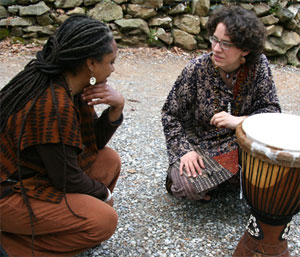 Tammi Hessen is a Lancaster-based drummer who has been studying in the West African hand drum tradition of djembe. She has traveled to Africa to study drumming and studies under djembe master Mamady Keita, and Master Drum Maker/Cultural Educator Baile McKnight. She has also studied with Menes Yahuda, Salim Ajanku of Sankofa Dance Theater, Mahiri Keita, Ubaka Hill, and other drumming instructors who travel around to teach.

Tammi has been working with Ubaka Hillas her teaching assistant at the Michigan Women's Music Festival, and recently recorded on Ubaka's 3rd CD, "Beyond the Wind" and played at the CD Release concerts.
Tammi began teaching Bumbada! Women Drumming classes in Baltimore Maryland in 2003. There is also a Harrisburg Bumbada group that is growing. She also has a performance group that plays for various events locally. Tammi's musical background includes playing with a steel drum band from Trinidad (called Tropical Ensemble) for 3 + years in Baltimore.
The word "Bumbada" was made up by a zesty group of women from a Mamady Keita Drum Camp, held in 2004 in Los Angeles. The word evolved from the sound of the drum, the notes bass, tone, and slap as we were practicing the techniques we had learned in classes there. The word also evolved into the tribe name for all of the women at the camp...and so when all of us went back to our own towns, it stuck.
You can contact Tammi directly for information about ongoing drumming classes in Baltimore, Lancaster, York, Reading and Harrisburg areas, or for private lessons. See CLASSES for more information as well.